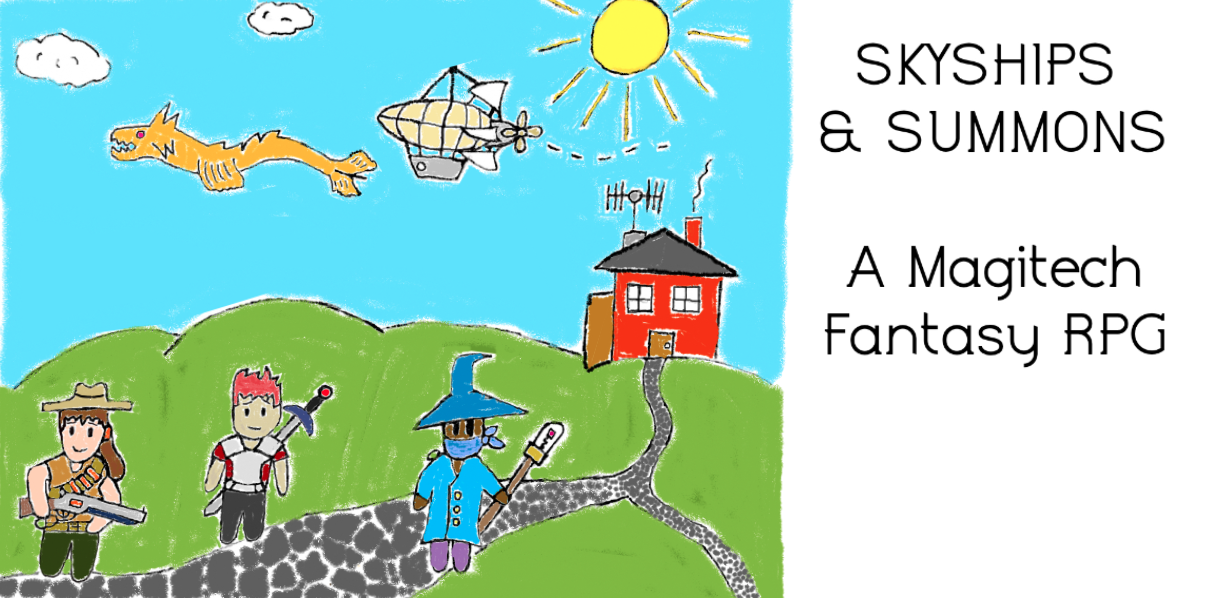 SKYSHIPS & SUMMONS
A downloadable tabletop rpg
SKYSHIPS & SUMMONS, inspired by a certain classic 8-bit turn-based video game franchise of the 1990s, is a "magitech fantasy" narrative tabletop RPG.
The setting of this RPG is Tellus, a planet of myth and modern technology where magical forests and dragons mingle with skyscrapers and flying machines. In this world, there are empires to oppose, ecosystems to protect, and ancient evils to seal away…
...but there is also time for heroes to wander about, cherish the little joys of life, and help strangers with problems large and small.
Get this game if you want:

A quick ' n ' dirty RPG system designed to fit on a pair of tri-fold pamphlets – one for the players, the other for the Game Master.
Accessible narrative storytelling rules modeled after the menus of turn-based computer RPGs.
A modern fantasy setting inspired by the Final Fantasy franchise, Pillars Of Eternity, and other games with crystals, airships, gun-swords, and environmentalist themes.
A simple starting adventure scenario to immerse both players and Game Masters in the world of Tellus!


SKYSHIPS & SUMMONS works best with a group of 2-6 players, tri-fold print-outs of the GM pamphlet and 2-6 player pamphlets, and a full set of Polyhedral Dice.
SKYSHIPS & SUMMONS version 0.5 is licensed under Creative Commons Attribution 4.0 International License. Share, use and adapt as you please while citing the original source.
Look forward to game updates and supplements in the future!
Download
Click download now to get access to the following files:
Skyships & Summons RPG Player And GM Pamphlets v0.5.pdf
326 kB
Skyships & Summons RPG Player And GM Pamphlets v0.5 Color Version Form Fillable.pdf
333 kB